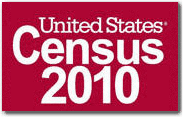 Census 2010 SF1 data sets now available to all Scan/US users! ACS data summaries coming next... Click here for the latest information!
---
Scan/US for Windows:
Desktop software solutions for demographics, mapping & geocoding
Scan/US, Inc. supplies desktop mapping and demographic solutions to consultants, businesses and organizations that need user-friendly software access to consumer markets, and characteristics that drive them.
Scan/US for Windows combines mapping software and demographic databases into a seamless solution anyone can afford and utilize when evaluating retail sites or trade area dynamics.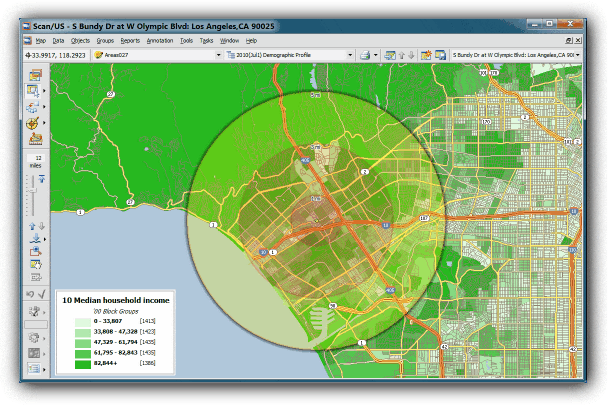 Users can generate maps, thematic maps and demographic reports, usually with just a few clicks of the mouse. Scan/US provides a host of Microsoft Excel-based utilities for reports and data exporting.
Our flagship desktop solution includes automatic software and data updates, so you always have our most up-to-date demographics and mapping technology.
Scan/US also offers various add-ons, options and enhancements. These features extend the utility of the standard package beyond the basics, without sacrificing affordability.
Scan/US software is used extensively for the production of demographic reports and maps for specific sites, trade areas and markets. No other solution combines value, ease-of-use and seamless map/data integration.
---
Scan/US, Inc. Update Methodology
Scan/US, Inc. generates demographic updates for the current year and a five year projection for all US Census geographies, for Scan/USís proprietary 5-digit ZIP boundaries, for our trademark MicroGrids and for US Postal Service (USPS) Carrier Route centroids. Collecting input and control data is a continual process. Starting in 2010 Scan/US, Inc. is releasing Demographic Updates more frequently in order to provide the most accurate and timely data for your location-based decisions.
For a discussion of how Scan/US, Incís demographic and cartography updates make the case as to why Scan/US, Inc. is the leader in providing decision makers actionable data for their location-based decisions, download our methodolgy statement here.

Ask us how you could have a 6-Month ($850), or 1 Year ($1,195) national program--mapping & data!--installed and running on your computerÖ.today!

---
Scan/US Geocoder is the affordable solution to your batch geocoding needs. Fast and accurate, Scan/US Geocoder appends latitude/longitude data to your address records, providing the crucial link that gets your data on the map, at the right location.
---
Experian's new MOSAIC lifestyle segmentation database is now available for Scan/US!
Completely re-modeled and updated for the 2010 decade, the new MOSAIC consumer targeting system enables you to easily identify and target neighborhoods that are most likely to contain the types of consumers your are looking for. The new MOSAIC now offers 71 consumer segments and 19 social groups. Call us at 800-272-2687 for more information.
---
We have a full line of demographic data available for USPS Carrier Routes!
If you need up-to-date demographic characteristics for mass mailing analysis, we can provide a full line of demographic data for current USPS carrier routes. Any database that is available in our standard Subscription Edition can be made availalbe for carrier routes! Full details!
---
Get a real-time demonstration of Scan/US!

We are always willing to demonstrate Scan/US software when requested, and web conferencing software makes it possible! We believe that an informed software consumer is usually a happy software consumer. And it only makes it easier when a prospective Scan/US user is fully aware and comfortable with their purchasing decision. Initiate a web demo here